Sign Up Now!

In just a couple of minutes you can begin enjoying
the latest issue of Bible Code Digest.

Your generous donation will help further Bible code research. (But you don't have to contribute a penny now to receive Bible Code Digest. Simply check the first option under "choose one" below and the same option on the next page.)

However, if you would like to help us continue our work with a financial donation, you can contribute your tax deductible gift either on our totally secure server, or by mail. We depend almost entirely on donations for our continued operation. Our research activities are seriously limited by current income. If you would like to help us expand our research and promotional efforts, you contribution would be most helpful.

Sign up for yourself (or a friend or relative) now through our secure server and you'll immediately receive a link to your first issue of Bible Code Digest by e-mail.

You can make a donation using your Visa, Mastercard, American Express or Discover card on our totally secure ordering system. It takes only a couple of minutes. A regular mail enrollment (by check or money order) takes 10 to 15 days to process for U.S. members.

Due to increased security on the BCD site, it may take up to a couple of hours for your user name and password to become active. We appreciate your patience in this matter.
For a single subscription: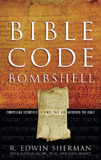 Bombshell examines two massive, recently discovered clusters of codes in the Hebrew Old Testament. To read more about Bombshell, click here, or click below to order from Amazon today!