Climate Change IV




Introduction

In the news, an Oregon State University Chemistry Professor Is Fired. On May 29, Nicholas Drapela was fired and given no reason for the decision. A critic of the man-made climate change theory, Drapela worked at the university for 10 years, and was a well-liked professor. It is believed he was fired because of his outspoken views on climate change.

In contrast, a Washington Post article (July 2, 2012), reported on a recent Washington Post-Stanford University poll, where water and air pollution ranked higher than climate change as a top environmental concern for those polled.

This wildly disputed topic continues to make headlines, and the great debate on climate change continues . . .

In our final installment on Climate Codes, we researched Al Gore, Copenhagen, solar cycle, solar cycles, weather, and flooding. Fifteen lengthy codes were found ranging from 11 to 32 letters long. The term Al Gore had a 50% return (5 out of 10 terms resulted in lengthy extensions, and one resulted in the longest code presented in this article).

What do the codes have to say about this controversial topic? BCD believes that codes present well-known viewpoints, which may or may not be true.

Highlights of the codes presented in this article include:

Codes describing Al Gore as a second for the nation (Vice President) and as being robbed (winning the popular vote, but ultimately losing the 2000 presidential election)

Copenhagen codes that parallel that city's successful environmentalism

Solar cycle codes that reads like a Psalm describing the mountains rejoicing, and may describe the loss of sunlight due to pollution or climate change resulting in malnutrition and disease

A weather code that may describe weather-caused crises to island nations.

A flooding code that may refer to the end of the Great Flood (Genesis 6-8) and the Lord coming with a son (Jesus).

Nathan Jacobi, Ph.D., parsed and translated the codes.





Al Gore

By any stretch of the imagination, Al Gore has led a very successful life. A Harvard graduate, he served in the military as a journalist during the Vietnam war. He represented Tennessee as a Representative in the U.S. Congress (1977-1985) and as a U.S. Senator (1985-1993), and he served as the 45th Vice President of the United States (1993-2001) under Bill Clinton's presidency. In 2000, he ran for president, winning the popular vote, but losing the election to George W. Bush (based on losing the Electoral College and the U.S. Supreme Court's final decision on the Florida ballot controversy). In addition, he has been the recipient of numerous Honorary Doctorates. Photo from Wikipedia.

As an author, filmmaker, and environmental activist, his book Earth in the Balance (1992) hit the New York Times bestseller list, his documentary An Inconvenient Truth won an Oscar (2007), and his book An Inconvenient Truth: The Planetary Emergency of Global Warming and What We Can Do About It won a Grammy Award for Best Spoken Word Album (2009). In 2007, Gore received a Nobel Peace Prize for his environmental activism.

Married to Mary Elizabeth "Tipper" Aitcheson in 1970, they have four children, and made a mutual decision to separate in 2010. It is unknown whether the shift of the primary focus of his life's work from politics to environmental activism played any role in this decision.

To read more about Al Gore, visit:

The search term Al Gore resulted in five lengthy codes ranging from 11-32 letters long.






Al Gore (3)




His maker will express to the Ishmaelite
to please approach Al Gore.




It is generally believed that Arabs are descendents of Ishmael, the son of Abraham and Hagar, Sarah's Egyptian maid-servant, who in modern parlance would have been a surrogate mother for Sarah. However, modern day Arabs may be descendants of many nations. Abraham Casting Out Hagar and Ishmael, Giovanni Francesco Barbieri, 1657, from Bible-Art.info.

The book of Jubilees places the location and identity of the Ishmaelites as the Arab peoples residing in Arab territories. This is the current view for the majority of the Christian, Islamic and Jewish faiths, although according to Biblical accounts the Arab people traditionally have had long-standing alliances with the descendants of the Assyrians and the Medes. Modern Arab populations represent many nations rather than one nation as specified biblically. (Ishmael, Deuteroncanonical References, Wikipedia)

Also see Are the Arabs Descendants of Ishmael?

His maker will express to the Ishmaelite to please approach Al Gore may refer to Eqypt seeking Al Gore's expertise on environmental matters. Al Gore gave the 2009 keynote address at the American Chamber of Commerce in Egypt.

Some question whether or not global warming hysteria may have led to revolution in Egypt.


Al Gore (4)




Island and ocean, imagine Al Gore
bringing dispute to the meek.




Controversy surrounds environmental issues, so it is not hard to imagine Gore bringing his brand of environmental information to an island nation of meek people and having result it in a dispute.


Al Gore (5)




Who has robbed for my sake from Al Gore,
messing up the heart of the river,
and will thus strike your daughter?




Who has robbed for my sake from Al Gore may refer to the 2000 presidential election dispute over the popular vote versus the Electoral College vote, resulting in Al Gore's failed bid for the presidency. Messing up the heart of the river may refer to environmental issues, but will thus strike your daughter is somewhat mysterious. Gore does have three daughters, but at this time, it is not known how this code may describe any of his daughters. Whether daughter refers to one of his children, or to some offshoot of the environmental issues, is unknown. This is the longest code presented in this article at 32 letters.




Al Gore (6)




Provide a director, Al Gore

OR

Provide a director, have no fear.




This code may refer to the director of his documentary, Davis Guggenheim, or it may refer to any one of Gore's other business endeavors in need of a director. Poster from Wikipedia.



Al Gore (7)




A second for the nation, Al Gore,
which is little for them.




A second for the nation may refer to Al Gore's service as the 45th Vice President of the U.S. (1993-2001), or it may refer to his loss of the presidential election in 2000.






Copenhagen

Since the beginning of the 15th century, Copenhagen has been the capital of Denmark. With a metropolitan population of 1.9 million, it is the most populated city in the country. Copenhagen is known to be one of the most environmentally friendly cities in the world, with a clean, safe harbor and with approximately 36 to 40% of its population commuting to work on bicycles. Their rate of organic food consumption is 45%, and in December 2009, the United Nations Climate Change Conference was held there. Photo from BestTourism.com.

Of the seven findings of Copenhagen, four resulted in lengthy extensions of 18 to 26 letters long.


To read further about Copenhagen, check out:

The Little Mermaid statue by sculptor Edvard Eriksen. Photo from Wikipedia.
Copenhagen (1)




If in Copenhagen, its mouth
(talks) to you as if rejoicing.




This code may refer to Copenhagen's example of environmentalism.


Copenhagen (2)




It is time for mourning within you
the eagle of Copenhagen,
who beheaded the bear.




Politically speaking the symbols of the eagle (U.S.) and the bear (Russia) may reference the Cold War's end, or the eagle may refer to Copenhagen being proactive in the environmentalist movement, in which case the bear might symbolize a nation that has resisted environmentalism.


Copenhagen (5)




His heart echoes the base
of the tree ridge of Copenhagen.




His heart echoes the base of the tree ridge of Copenhagen may refer to the official municipal policy in Copenhagen that by 2015 all citizens must be able to reach a park or beach in less than 15 minutes by foot. While Copenhagen has many parks already, additional parks are under development in order to meet this goal.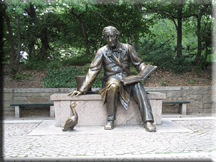 Copenhagen (7)




Who is in the groove?
Copenhagen has made my name ugly.




The use of the word ugly in conjunction with Copenhagen brings to mind Hans Christian Andersen's much-beloved story The Ugly Duckling. At the age of 14, Andersen moved to Copenhagen. This code may refer Andersen's struggles as a gangly youth, or as a young author. Also, it may refer to "The Ugly Duckling" specifically, or it may have other meanings.

Photo of statue of Hans Christian Andersen and The Ugly Duckling in New York City's Central Park from Wikipedia.




Solar Cycle

Of the five instances of the term solar cycle, three resulted in lengthy extensions, 17 to 30 letters long.

There were no findings for the plural form, solar cycles.

A solar cycle, photo from Wikipedia.


Solar Cycle (3)




Let the solar cycle be joyous,
ennobling them, and let the lofty mountain
be joyous!




This code describes the solar cycle as a benefactor, and the mountains being joyous. Throughout Scripture, there are descriptions of the earth itself rejoicing and praising God. Here are two:

Say among the nations, "The LORD reigns;
The world also is firmly established,
It shall not be moved;
He shall judge the peoples righteously."

Let the heavens rejoice, and let the earth be glad;
Let the sea roar, and all its fullness;

Let the field be joyful, and all that is in it.
Then all the trees of the woods will rejoice before the LORD.

For He is coming, for He is coming to judge the earth.
He shall judge the world with righteousness,
And the peoples with His truth. (Psalm 96:10-13, NKJV)


Then, as He was now drawing near the descent of the Mount of Olives, the whole multitude of the disciples began to rejoice and praise God with a loud voice for all the mighty works they had seen, saying:

"'Blessed is the King who comes in the name of the LORD!' Peace in heaven and glory in the highest!"

And some of the Pharisees called to Him from the crowd, "Teacher, rebuke Your disciples."

But He answered and said to them, "I tell you that if these should keep silent, the stones would immediately cry out." (Luke 19:37-40, NKJV)

Solar Cycle (4)




My solar cycle, I became pregnant
with a word.




This code may refer to Mary, the Mother of Jesus, becoming pregnant with a word, God's declaration carried out by the Holy Spirit. Perhaps my solar cycle could refer to the timing of Mary's conception.


Solar Cycle (5)




If the solar cycle has been dormant,
a fire with a thick abdomen
has been the heart of weeping.
Offer a gift!




If the solar cycle has been dormant may describe a cloud cover or pollution obscuring the sun's light. This would be disastrous for life by diminishing food supplies and causing illness (a lack of vitamin D is a known contributor to cancer development, and Seasonal Affective Disorder, which leads to depression and changes in appetite). For more information, visit these sites:


Food Supplies

Vitamin D

Seasonal Affective Disorder

A fire with a thick abdomen might describe the resulting illness from a lack of nutritious food and resulting medical conditions. A distended abdomen is a symptom of malnutrition. The resulting distress would cause weeping and calling out for a gift (such as praying for sunlight, good food, and health).


Weather

Of the five findings, two resulted in lengthy extensions, 16 to 24 letters long


Weather (2)




Watch the weather here.
Indeed the island hit his heart.




Previously BCD has written articles on codes regarding earthquakes, hurricanes and tsunamis. Following the earthquake in Haiti, many nations sought to help that struggling island nation. Indeed the island hit his heart brings to mind that outpouring of emotion and assistance for the hurting people of Haiti. The following are links to previous BCD articles:

Weather (5)




The weather deteriorated,
changing very fast.




The media is very quick to bring pictures of rapidly changing weather to its viewers. We've all seen videos of rain-soaked, wind-blown news anchors, with enormous ocean swells in the background, and debris flying past them as they update their viewers about an approaching hurricane. This code reads like part of a script for one of those news anchors.


Flooding

Of 10 findings, only one resulted in lengthy extensions, 25 letters long.


Flooding (7)




The back side of the flood is not
a frequency monumental destruction for them.
The Lord came with a son.




In Genesis 6-8, we find the story of God calling Noah to build an ark so that his family and the animals God commanded that he bring aboard the ark would be saved from the impending flood.

Genesis 8:20-22 explains God's covenant with man following the flood.

Then Noah built an altar to the LORD, and took of every clean animal and of every clean bird, and offered burnt offerings on the altar. And the LORD smelled a soothing aroma. Then the LORD said in His heart, "I will never again curse the ground for man's sake, although the imagination of man's heart is evil from his youth; nor will I again destroy every living thing as I have done. While the earth remains, seedtime and harvest, cold and heat, winter and summer, and day and night shall not cease." (NKJV)

The back side of the flood may refer to the time following the flood, and the Lord came with a son may refer to Jesus.


Scripture References

Scripture quotations marked "NKJV"TM are taken from the New King James Version®. Copyright ©1982 by Thomas Nelson, Inc. Used by permission. All rights reserved.


Continue to Climate Change IV: Tables



Now available, donate using PayPal ↓




Buddha and Jesus challenges numerous common notions about Buddhism (versus Judaism and Christianity).

To read more about this groundbreaking book, click here, or click below to order from Amazon today!