"Who is Like God?" Codes
in Isaiah 40-46, Exodus 15 and Proverbs 30:4
God and Jesus in Proverbs 30:4: Jesus Will Mend My People

In a continuing effort to examine codes that pass through Scriptures that ask the question Who is Like God?, we searched for God and Jesus in Proverbs 30:4. The resulting codes are significant and memorable.


Conclusive Findings from the "Who is Like God?" Searches in Isaiah 40-46

Is the phenomenon of Bible codes real or not? Over the past eight months, we again put this question to the test. The answer, overwhelmingly, is "Yes."


BCD examines Jesus (Yeshua) codes in Isaiah 40–46 to determine whether the findings are random or intentional.


After completing our searches for extensions to Yeshua ELSs found in the "Who is Like God?" verses of Isaiah 40-46, it occurred to us that it would be interesting to also search for extensions to Buddha ELSs in these same verses. And, while at it, we also searched for extensions to Muhammad and Moses ELSs in those same verses.


We explore more significant Buddha codes found in Isaiah 40-46.


In our continuing research into codes passing through the "Who Is Like God?" verses of Isaiah 40-46, we searched for the phrases There Is No Man, Indeed No Man, Indeed No One, and Who Is Like God?


When the literal text of the Bible asks questions, could Bible codes provide answers?
---

Enjoy finding your own Bible codes.
Bible code search software is available in our online store.


---

Subscribe Free! Sign Up Today!
Become a member of the non-profit Isaac Newton Bible Research Society.

Not only will you be part of the world's leading organization researching and publicizing Bible and Torah codes, but you will receive Bible Code Digest absolutely free, including . . .


Latest Bible Code News

Easy-to-Understand Bible Code Feature Articles

Exciting Inside Information from Leading Code Researchers

Details of Great New Discoveries

Summaries of the Latest Battles Between Code Proponents and Skeptics

Stay current on Bible code news. Be first to hear about all of the latest Bible code discoveries.

Sign up to receive Bible Code Digest today.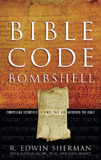 Bombshell examines two massive, recently discovered clusters of codes in the Hebrew Old Testament. To read more about Bombshell, click here, or click below to order from Amazon today!