The Jesus Codes in the Ten Commandments (Continued)
---

Enjoy finding your own Bible codes.
Bible code search software is available in our online store.


---

Subscribe Free!

By signing up to be a member of The Isaac Newton Bible Research Society, you will have access to more than fifteen years of research by our team of Bible code researchers.

Sign up to be a member today.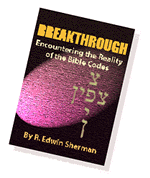 Get a FREE Book

Subscribe today and we'll also give you a special preview edition of our brand new 280-page book, Breakthrough: Encountering the Reality of the Bible Codes, a $29.95 value, absolutely FREE.

Guarantee: If you are not completely satisfied with your subscription to Bible Code Digest after two issues, we will cheerfully refund your money.

Click HERE to subscribe to the one of the most exciting publications on the internet . . . Bible Code Digest.








Click here
and sign up to receive Bible Code Digest with no cost or obligation.


Breaking News
Code Skeptics' Arguments Trashed
Ever since the first Bible codes were announced, skeptics have been saying, "Oh, well, you can also find codes like that in books like War and Peace and Moby Dick."

We took the time to examine this notion and the best example of it that the skeptics have been able to come up with. The results of our research have completely blown away their theory.
Click here to see for yourself.