Jesus Codes
The following are brief introductory summaries to some of the full-length articles below:

The following are full-length articles.

Isaiah 53 Cluster: Top 10 by Length

It's easy to get absorbed with examining individual codes and forget to look at the big picture. Over the last 12 years, the Isaiah 53 cluster has continued to explode. We present all the lengthy codes together in a single article.


Peter in Isaiah 53 and Psalm 22

BCD discovered a dozen lengthy codes about Peter in Isaiah 53 and Psalm 22. Many of them seem to describe various aspects of Peter's life.


Visiting the Tomb: Code Clusters in Isaiah 53 and Psalm 22 Continue to Grow

The remarkable code clusters that pass through the prophetic chapters of Isaiah 53 and Psalm 22 have continued to explode. BCD decided to search for the names of those who visited the empty tomb and for phrases about the tomb.


Yeshua in Isaiah 53 and Psalm 22

As we approach the Christmas season, twenty fascinating new Yeshua (Jesus) codes found in Isaiah 53 and Psalm 22 are presented.


In a continuing effort to examine codes that pass through Scriptures that ask the question Who is Like God?, we searched for God and Jesus in Proverbs 30:4. The resulting codes are significant and memorable.


Lengthy Prophet and Messiah codes echo Scripture and point to God's omniscience and creativity.


Are there significant codes on the Trinity that appear in Genesis 1:1? Do some wrap back around the Torah and Tanakh?


We searched for Yeshua the Messiah and The Messiah Yeshua ELSs in the Tanakh, and the findings were highly improbable.


What happens when BCD and Nathan Jacobi, Ph.D., search for the sentence Who is the true messiah? Check out the surprising findings.


In-depth analysis of the 61-letter-long Who is the true messiah? code.


When the literal text of the Bible asks questions, could Bible codes provide answers?


BCD examines Jesus (Yeshua) codes in Isaiah 40–46 to determine whether the findings are random or intentional.


The already remarkable Psalm 22 cluster continues to grow with the addition of 15 lengthy ELSs.


That David the King ELSs would be far closer to literal appearances of David in the Tanakh than ELSs for any of the later Kings is quite impressive. When we tried this same exercise for The King Yeshua (Jesus) and Yeshua the King, the results were very surprising.


Could Bible codes possibly add anything definitive to the two-millennia-long controversy over Christian claims that Jesus of Nazareth was/is the Messiah of the Jews? We explore a rich host of clues from the codes.


New code dramatically links Isaiah 53 with Gospel accounts of the transfiguration of Christ.


In preparing a rebuttal to Brendan McKay's and Dave Thomas's attack on the 22-letter "Gushing" code found by BCD, a longer 40-letter code was found.


How the new 40-letter code closely links with the literal text that it passes through.


A startling number of codes from Isaiah 53 have been extended.


Explosive Cluster of 1,400 Jesus ELSs Discovered in Isaiah 53
Massive cluster dwarfs skeptics' counter-examples.





Easter-related ELSs are used to tell the story of the last hours of Jesus' life.


Disciple of Jesus who typifies treachery feature of 73-letter code.


Dozens of astonishing terms about Christ are woven through important Torah passage.


Latest Code Finds in Genesis-Exodus Mega-Cluster
Research interrupted by 911 resumes with intriguing finds centered on Jesus Christ.


Passover/Easter Codes Discovered in Several Clusters
Resurrection and ascension finds include new Top 20 Longest Codes (2002–2003).


New Christmas Codes Add to Amazing Cluster
Longer ELSs serve to heighten the mystery in this compelling array.


Psalm 22 Yields Extensive Crucifixion Codes
Details of Christ's life and death are abundant.

---

Enjoy finding your own Bible codes.
Bible code search software is available in our online store.


---

Subscribe Free! Sign Up Today!
Become a member of the non-profit Isaac Newton Bible Research Society.

Not only will you be part of the world's leading organization researching and publicizing Bible and Torah codes, but you will receive Bible Code Digest absolutely free, including . . .


Latest Bible Code News

Easy-to-Understand Bible Code Feature Articles

Exciting Inside Information from Leading Code Researchers

Details of Great New Discoveries

Summaries of the Latest Battles Between Code Proponents and Skeptics

Stay current on Bible code news. Be first to hear about all of the latest Bible code discoveries.

Sign up to receive Bible Code Digest today.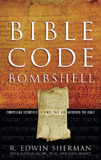 Bombshell examines two massive, recently discovered clusters of codes in the Hebrew Old Testament. To read more about Bombshell, click here, or click below to order from Amazon today!